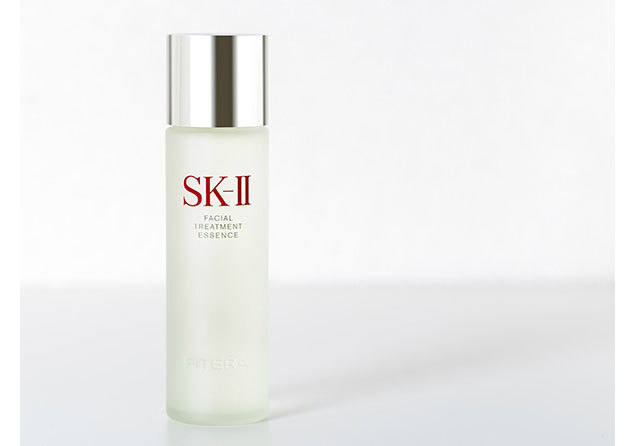 A product every woman has dreamt of getting their hands on; the SK-II Facial Treatment Essence. It won the @cosmeBest Cosmetics Award as the Best Toner in 2015 and 2016, and has enchanted women for the past 37 years. We unveil the story behind the birth of the cult classic toner, the original delicate process of manufacture and the secret to beautiful skin!

SK-II commenced their research over 40 years ago from now. At time, there were insufficient researches regarding the skin and its structure, and analyzing ingredients and observing the skin were all done by hand. But the development team did not hesitate, and pursued for an ingredient "active and safe for the skin".

"While investigating an abundance of different ingredients including botanical ingredients and hot spring water, one scientist discovered the wrinkled faces of the old male 'touji' (Japanese sake brewers) sharply contrasted with their smooth, beautiful hands. Deeply fascinated with this fact, we began to think the key to beautiful skin was in 'yeast' and 'fermentation'. " (SK-Ⅱ PR Officer/Yuri Sugawara)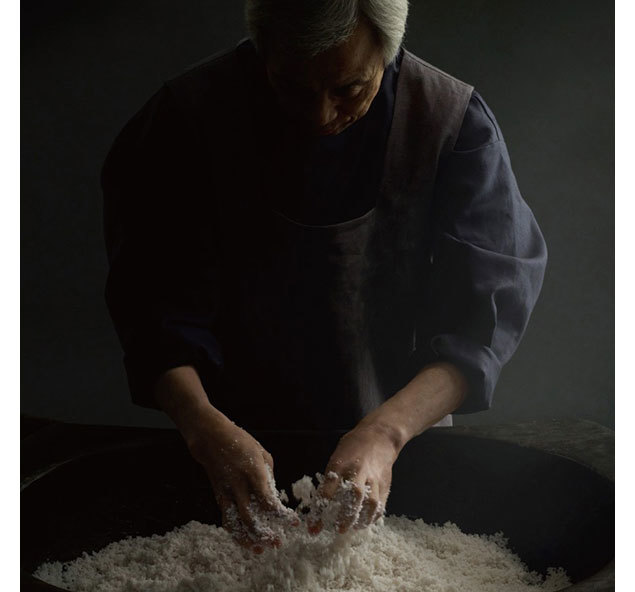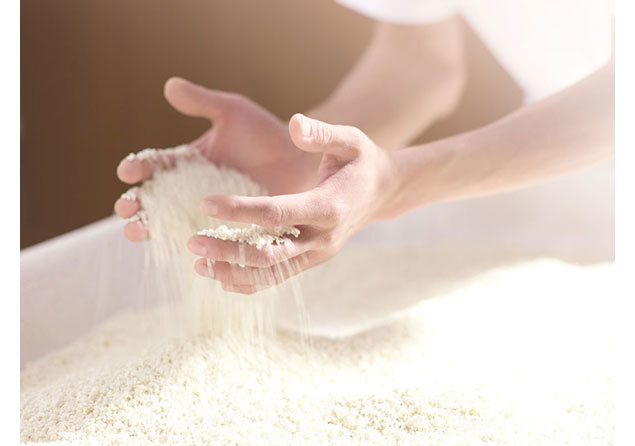 The smooth, beautiful hands of "touji" blazed a trail for an extraordinary project.

"Now, researches have evolved and it is a widely known fact, yeast and fermentation is healthy and beneficial for the human body. But 40 years ago, it was unheard of. And to utilize them in cosmetics? Development was not easy with constant trial and error since there were no precedents regarding microbiological culture and the required facilities. " (Sugawara)

The development team rigorously examined every type of yeast available until they discovered "Galactomyces Ferment Filtrate".

"Pitera™ is derived from this fermentation process. The Facial Treatment Essence is a product containing over 90% of raw Pitera™. In 1980, the first ever product was sold for 15,000 yen." (Sugawara)
The initial salary back then was average 90,000 yen so the product was 1/5 of that (worth around 4~50,000 yen now). You can see this was a great luxury. And after 37 years, this product has been loved by SK-II fans without any distinct change in formulation and price; an extremely rare case in the beauty industry as a skin care product.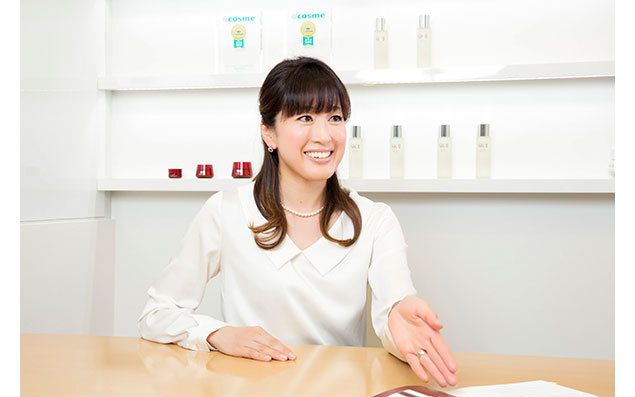 The two letters, SK in SK-II is an abbreviation of "Secret Key". The "secret key" behind beautiful skin. Before we developed the Facial Treatment Essence, there was already a product named Secret Key so as the next generation, the "II" was added.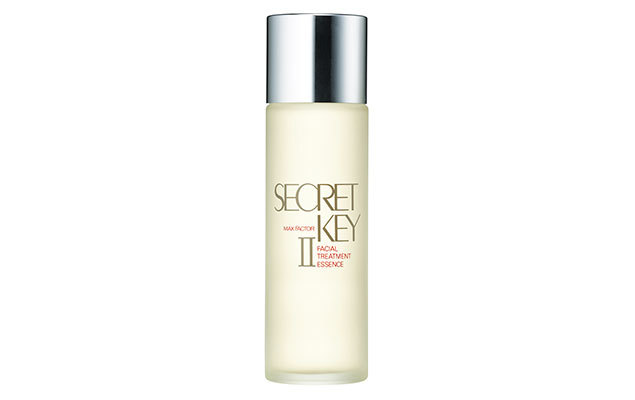 What Makes Pitera™ So Magical- Firstly, Pitera™ actively cultivates the skin.

"During our development, we discovered Pitera™ bores a close resemblance to the skin's NMF (Natural Moisturizing Factors). With further analysis and examination, it was determined Pitera™ contains over 50 ingredients and is rich in amino acids, vitamins, minerals and organic acids." (SK-Ⅱscientist Kimiko Sasaki)

Furthermore, the 50 over ingredients creates an ideal combination of nutrients to dramatically improve the skin's natural surface rejuvenation process, clearing and firming the skin.

"Even if we composed a certain percentage of vitamins, minerals and more, it would be impossible to create such a delicate and ideal balance. This is what makes Pitera™ so unique, because this balance can only be created as a gift from nature. " (Sasaki)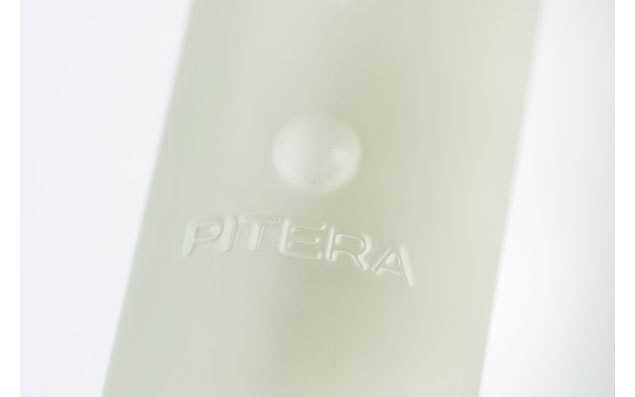 The word Pitera is engraved on the bottle after the renewal in 2015.

Secondly, what makes Pitera™ so unique is that it cannot be recreated artificially. The manufacturing process is related with the technology of "fermentation", also utilized in the manufacture of sake and miso.

"Fermentation is the process where microorganisms consume, then decompose to generate an active ingredient for the human body. There are strict conditions for this to occur—types of enzymes, nutrients, concentration in the culture solution, the perfect temperature, humidity and ph. If any of these conditions change, the metabolites, the outcome will be completely different." (Sasaki)

It cannot be collected from the extracts of plants, or scientific compositions; it can only be collected from nature's natural processing. A true drop of miracle, human hands cannot generate.

Pitera™ and all SK-II products are manufactured at a factory in Shiga prefecture. All SK-II products sold in each country are "made in Japan".

"The manufacturing process starts with the initial culturing in a culture sample, then transferring to a tank for further fermentation. The adjustment of temperature, humidity and ph are crucial. "(Sasaki) Currently, all processes are strictly managed by SK-II's most advanced equipment and technology. Since the facility controls delicate yeast, the Shiga factory thoroughly administrates hygiene and sanitation managements such as prevention of bacterial ingress, equivalent of a food manufacturing factory.

"Especially for the Pitera™room where all manufacture of Pitera™ takes place, only educated technical experts can enter, and even employees are prohibited from entering." (Sasaki)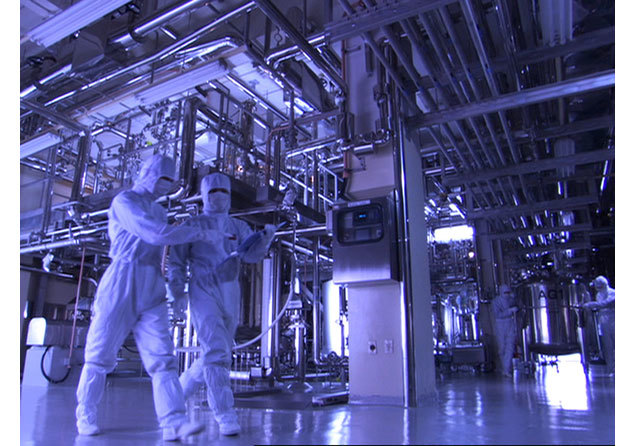 Under strict and thorough hygiene management and advanced equipment, all SK-II products are brought to life in this Shiga factory.

"Even though manufacture is under advanced equipment and strict hygiene management, fermentation is executed with living organisms. For a successful fermentation, professional 'eyes' are crucial." (Sasaki)

SK-II has been accumulating experience regarding the generation of Pitera™ for over 40 years. Out of all technicians, Pitera™ experts specialize in the delicate process of fermentation. With advanced equipment, they observe and watch the yeast's natural development for 24 hours. The technology and Japanese craftsmen's patience and energy is what realizes the high quality of the Facial Treatment Essence.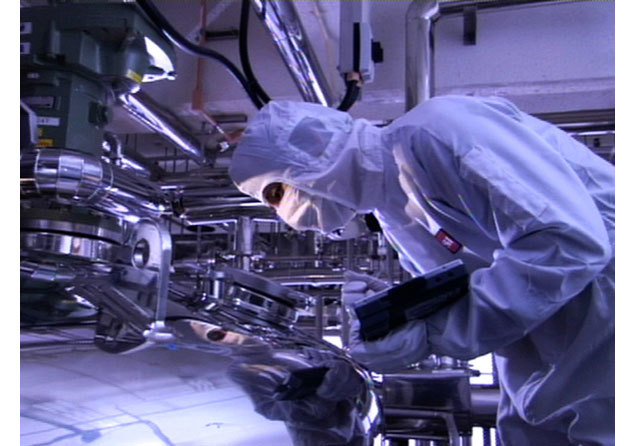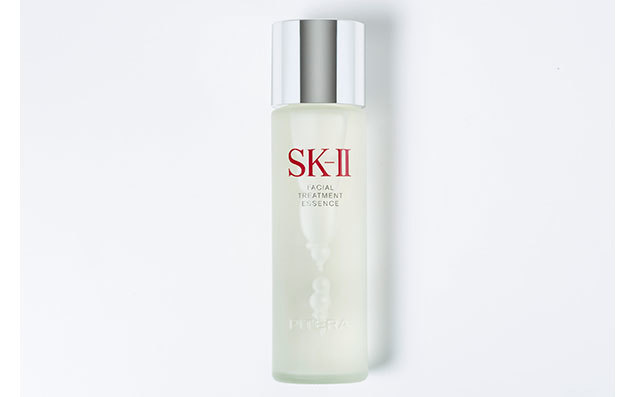 The Facial Treatment Essence is the metabolite, yeast generates. Although it appears to be a toner, it is a mass of over 50 serum ingredients. When it was first released, there were no other similar products in the market, and was inscribed as an "Extraordinary Toner" on the bottle.

*Cosmetics inscription guide lines were adjusted, and it is now inscribed as a "General Toner".

SK-II has been continuously serving for the mechanism behind the skin and aging. Out of all projects, the "Akita Study" is exclusive and unique.
Up until now, the main examination regarding aging was comparing each generation in their 20s, 30s, and 40s. SK-II instead observed how one person changes with aging." (Sasaki)

Regarding the day time period, humidity and such, the research subject was the Akita prefecture, known for women with the most beautiful complexion, as "Akita Beauty". It was a large scale project, to observe 100 women and their change in skin for over a 10 year period.
"Aging signs differ for each individual with numerous factors such as facial structure, daily habits and skin care. We thoroughly inspected the difference for those with unchanging, age defying skin. As a result, we found 5 factors crucial to clear skin." (Sasaki)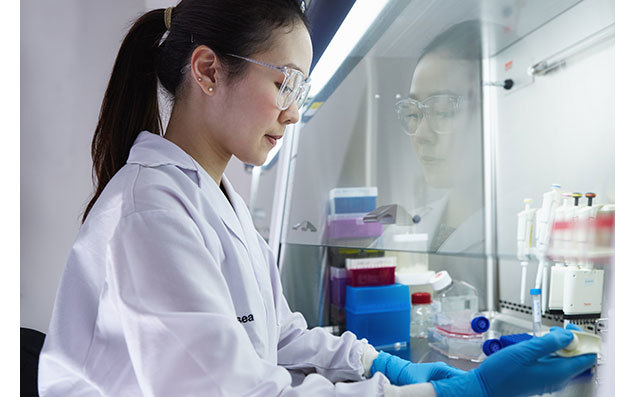 Behind the research. SK-II not only fixates on the ingredients, but also widely researches the skin's system and aging care.

The 5 factors behind clear skin are the fine balance of "smoothness" "firmness" "fine lines" "age spots/dullness" "radiance".

"When people think beautiful skin, they have a vague image. We took this image, defined, digitized and indexed it. We established the balance of these 5 factors and each factor's influence for beautiful skin." (Sasaki)

The abundant data base from the researches leading up to the Akita Study is utilized in the brand's original skin counseling tool, the "Magic Ring".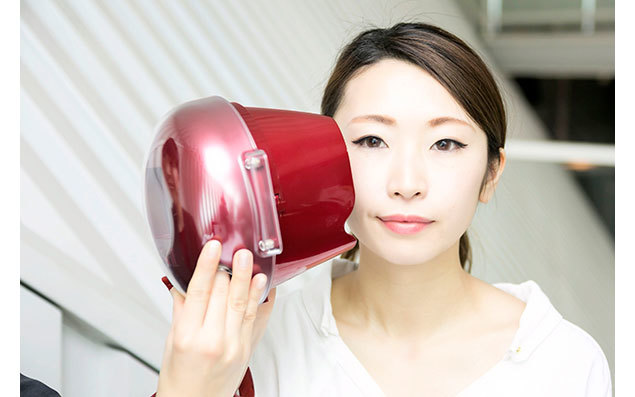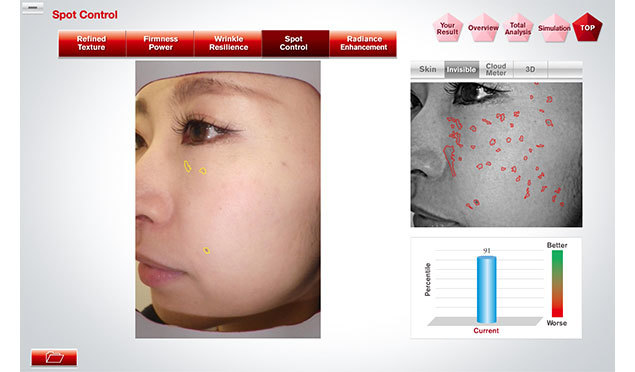 The Magic Ring is introduced in about 1000 stores in Japan. It analyzes the skin in 10 minutes over makeup, clearly showing the age the individual appears from firmness to hidden age spots.

The "Magic Ring" is an advanced skin technology that quickly analyzes the skin in a graph with its 5 factors.

"It's crucial your 'appearing age' links with the numbers in the analysis." (Sasaki) The "Magic Ring" allows users understand what age they appear from the smoothness, firmness, hiding age spots and such of their skin.

"SK-II's original skin research is not only utilized in the Magic Ring, but is also integrated in the development of aging care products. The data concerning aging eye care has especially created a great influence and inspiration to further research." (Sasaki)

A study only realized by long term researches of SK-II -the study of the changes in skin with "continuous use of the Facial Treatment Essence". It is the secret, result and reason of why the formulation has not changed, and did not need to be changed in the past 37 years.

SK-II first advanced in over sea markets in 1982, Hong Kong. After this first launch, their products are now sold in over 13 countries worldwide such as North America, Singapore, China, and Dubai.

"Just like in Japan, the Facial Treatment Essence is the biggest hit in any country. In China, it is called '青春露' '神泉水' and there are customers that travel to Japan with these names on memo." (Sugawara)

Even outside Asia, in America where the use of moisturizing toners is not widely common, the Facial Treatment Essence is immensely popular. Maybe the reason behind this hit is the desire for "fine Japanese women's skin".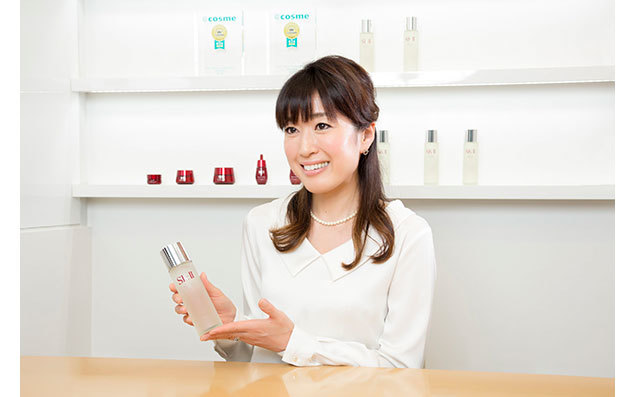 What is surprising about Pitera™ is that, even after 40 years of the initial research, there are still new discoveries on Pitera™.

"The research is not only in Japan, and there are joint studies of university professors with medical doctors in Asian countries. The study of Pitera™ is now expanding to the world. "(Sugawara) Even the details of the study are concentrated on skin DNA and protein, utilizing the most advanced science.

The Japanese traditional fermentation process created the drop of miracle, the Facial Treatment Essence. As of August 2017, there are 7,857 users interested with over 13,300 reviews (as of August 9th, 2017) on @cosme for the resulting gem, as a cult classic product. Pitera™ will continue to be loved worldwide now and in the future as a legendary gift from nature.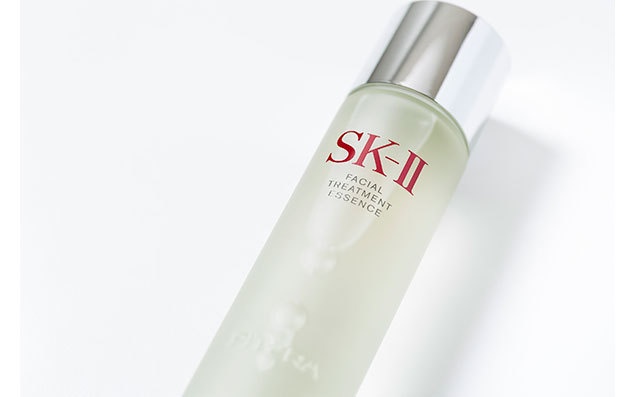 【Yuri Sugawara】
Yuri Sugawara was in charge of PR from 2008 after years of experience as a SK-II beauty counselor. After working 7 years at the counter, she has been actively spreading the magic and power, Pitera™ holds with her abundant knowledge of skin care.

【Kimiko Sasaki】
Kimiko Sasaki has conducted researches in the skin science field and participated in multiple product developments as a scientist. She is a beauty science expert with abounding knowledge regarding the history of researches on changes in aging skin and the effects of how cosmetics influence on the skin and mind.
Interview・Text / Namiko Uno
Photography / Daichi Saito


※Our pages are translations of articles published on Japan's @cosme. All products introduced in the articles are sold in Japan.