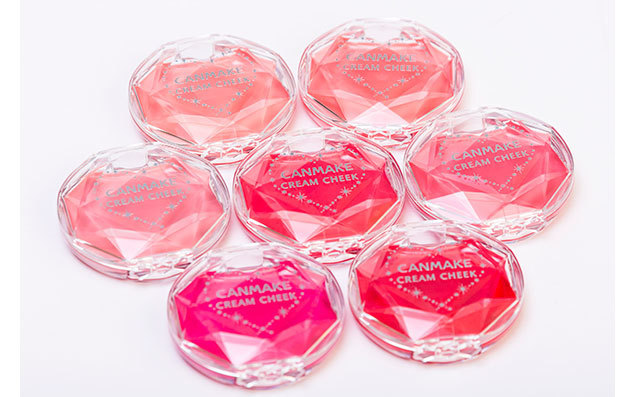 In the 7th installment of Japanese Beauty, we introduce brand Canmake; a fan favorite and always popular on @cosme. Affordable, high quality, and representing the unique Japanese "KAWAII" look, we're about to take a peek behind the curtain to see what goes into these carefully created products.
Pioneer of "Low End Makeup & KAWAII" CANMAKE「Cream Cheek」

Entering the @cosme Best Cosmetics Awards Hall of Fame in 2015, Canmake's popular "Cream Cheek" now has 12,181 reviews (as of Jan. 15, 2018) and sits at first place in the Gel/Cream Blush ranking category (as of Jan. 15, 2018). Our first chapter in this story will take us deep into what makes this bestseller so desirable.

"Cream Cheek was a labor of love from one of our project leaders," explained Yuki Yamaguchi, Canmake's head of PR. Before starting her job at Canmake, the project leader was a devoted fan of Canmake's now-discontinued "Creamy Cheeks" blush, all because she loved the natural look it created. "She was really passionate about reviving that blush and creating a modern version of it," said Ms. Yamaguchi.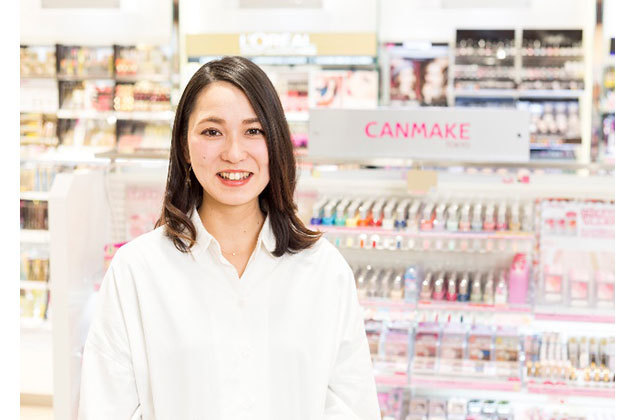 (Canmake Head of PR Yuki Yamaguchi)

Even after being assigned to her dream job in the product planning department, our protagonist faced rejection every time she suggested the Cream Cheek revival. "But she didn't give up," said Ms. Yamaguchi. "In 2013, the no-makeup look started taking off. She decided that was the make-or-break moment for a product like Cream Cheek, so she brought it up at a planning meeting."

Finally, after 4 years, Cream Cheek had a chance to shine.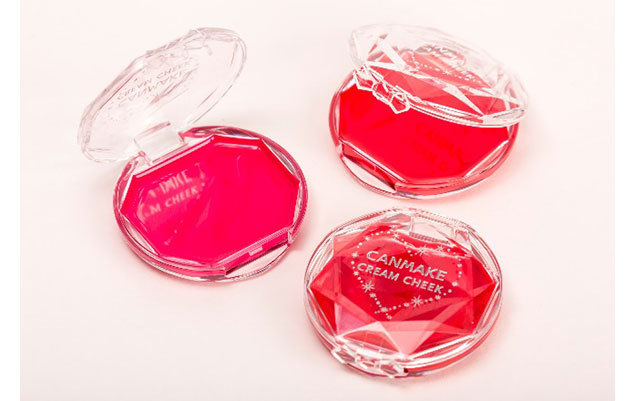 (Cream Cheek all 8 shades, 580 yen)

Still, powder blushes were at the height of their popularity. During internal meetings, people voiced doubts, wondering how a cream blush was supposed to be used, or whether it would be too greasy. In spite of this skepticism, our project leader pushed for a texture that they had never seen in a blush before; one that transformed from a cream to a silky powder.

"What we were after was a blush with good pigmentation, a sheer finish on the skin, and long-lasting wear. In order to combine all these contradictory qualities, we remade the formula over and over again until we found the perfect balance," said Ms. Yamaguchi.

While creating quality products is half of Canmake's mission, keeping those products at an affordable price is the other half.
Ms. Yamaguchi explained, "When it comes to cosmetics packaging, what raises costs is the so-called 'pan' that the product sits in. To deal with that, our project leader proposed not using a pan, and instead directly pouring the contents into the plastic container."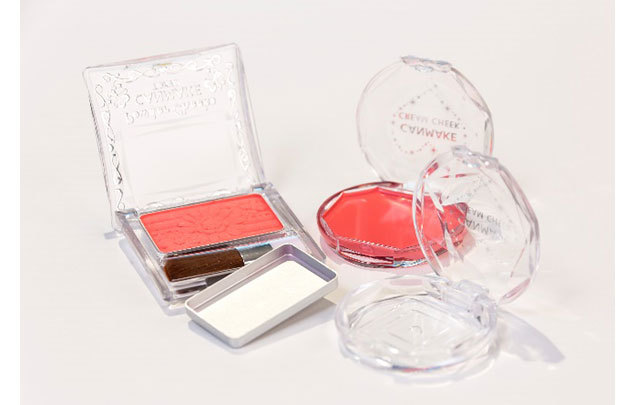 (Left: blush in pan. Right: directly-poured blush.)

With the money saved by omitting the pan, Canmake was able to increase the amount of product and create a "crystal cut" design for the case.

"The choice to create facets on the inside of the case was what made the difference. It reflects light and sparkles on the shelf, and the outside is nice and round, so it fits right in your hand," said Ms. Yamaguchi.

With facets cut into the interior of the case, the color of the product is visible from every angle, and from the back, the blush looks packed in the case. Altogether, the design seems to have had an unexpectedly powerful visual impact.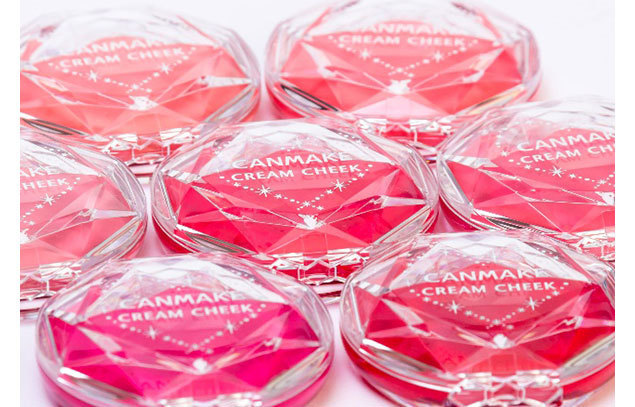 In 2013, the case was redesigned with more facets and more shine. The print on the lid also changed, from a plain circle to a heart shape. "We gave it a fun kind of feeling, like blending the blush out in a little heart shape on your cheeks," said Ms. Yamaguchi.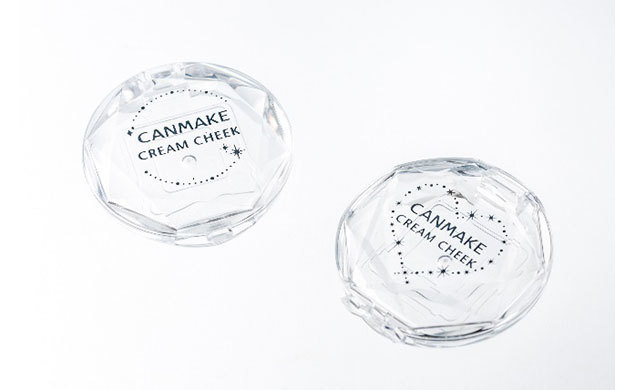 (Left: original case. Right: current case.)

Take a close look at one little detail; the latch on the lid. If you look carefully, you can see that the original case had a simple diamond-shaped latch, while the current version has a tiny ribbon instead! "This shape is easier for users to open, and we really wanted to keep the design as cute as possible," said Ms. Yamaguchi.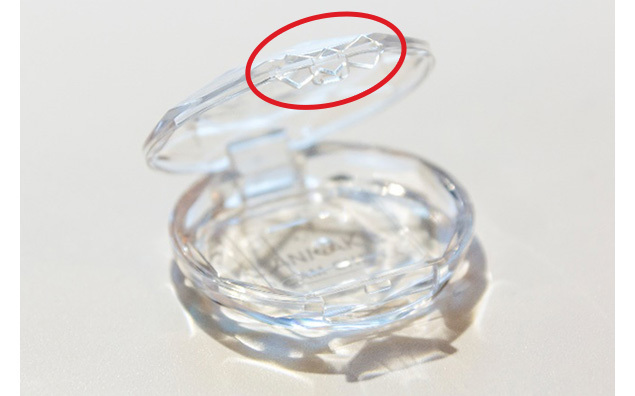 (The ribbon-shaped latch)

In the end, Canmake's attention to detail extended from the color and finish to the smallest part of the packaging. The finish was naturally flushed cheeks and won the hearts of women all over Japan. "Now, when you say Canmake, there are so many people who think of Cream Cheek, and I couldn't be happier," says Ms. Yamaguchi.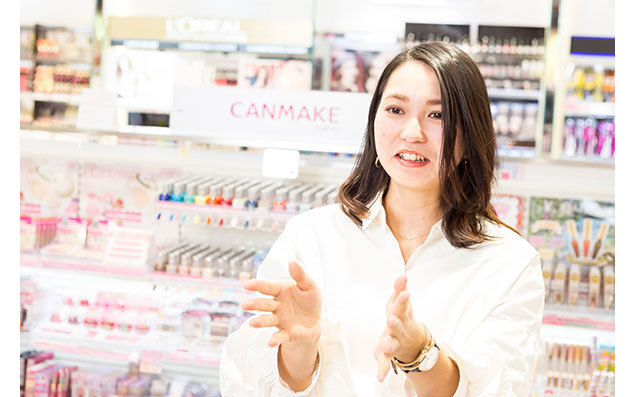 What did you think of the secret history behind Canmake's Cream Cheek? In our next chapter, we'll take you on a tour of Canmake's history and some nostalgic hits from their past.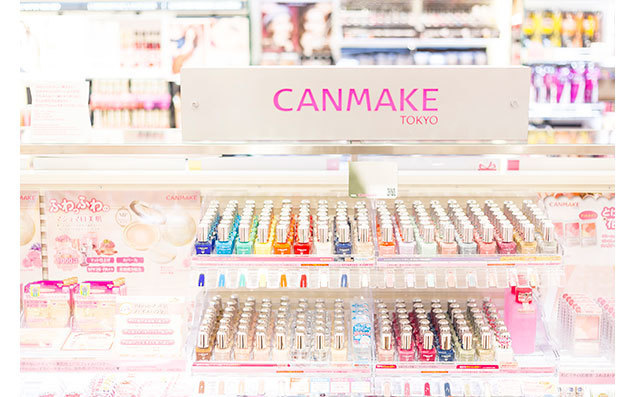 Since its founding in 1985, Canmake has sought to create cosmetics with a playful aesthetic. Let's take a look at its history of 33 years and the cute products from its early years.

Canmake's roots can be found in "IDA Ryogokudo", a company founded in 1918. As wholesalers, "IDA Ryogokudo" was the middleman selling cosmetics from manufacturers to stores. "After years of helping provide consumers with cosmetics, we started thinking we wanted to create our own brand," said Yoshinori Segawa, managing director of IDA Laboratories.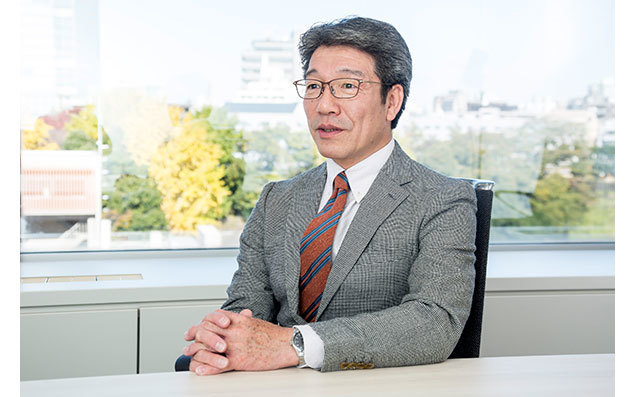 (IDA Laboratories Managing Director Yoshinori Segawa)

Meanwhile, in 1963, the company president at the time traveled to North America and Europe. There, he saw makeup on shelves selling for only 4 or 5 dollars. He started thinking, "Maybe makeup products in Japan are too expensive..."

"At the time, the cosmetics industry in Japan was focused on in-person consultation. But abroad you could find plenty of reasonably priced products that you simply chose yourself. We decided we wanted to create cosmetics in the 500 to 1,000 yen range, something you could pick up on a whim," explained Mr. Segawa. And that is how IDA Laboratories was created.

In 1985, IDA Laboratories launched their first makeup brand, Canmake.

"The name comes from 'You Can Make It'. We wanted to send a message you can be who you want to be," said Mr. Segawa.
Canmake gave us a special viewing of some of their original products they have in storage and… they are unbelievably KAWAII!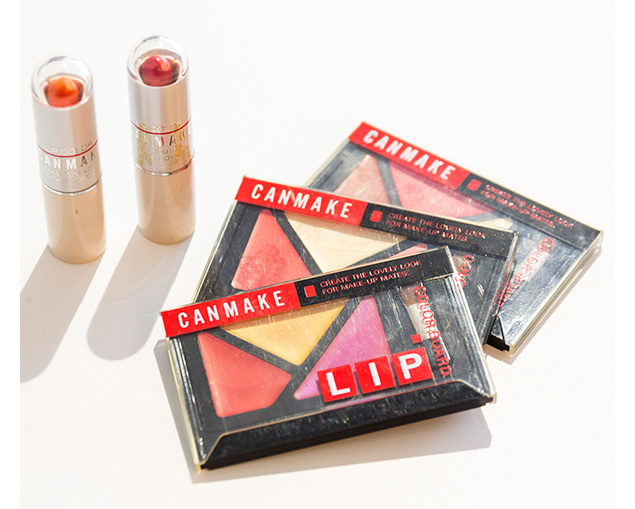 (1980's Lipstick (left) and "Slide Lip" (right))

"When we're developing a Canmake product, we always place a lot of emphasis on whether or not it's easy for the customer to choose which product to buy. So we use transparent packaging that lets you see the color of the contents," said Mr. Segawa.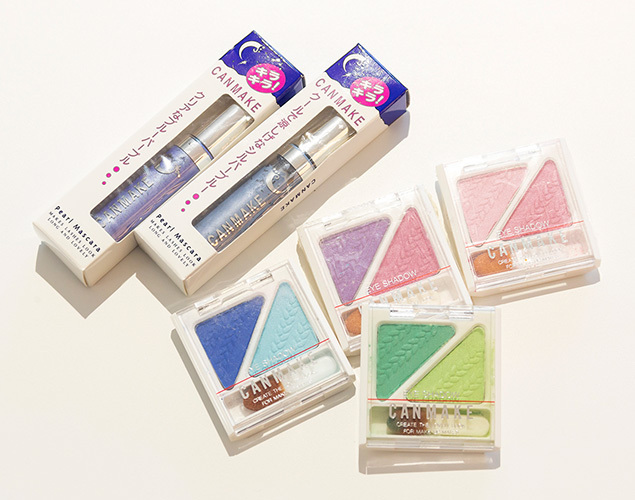 (Right: 1980's eye shadow. Left: 1990's color mascara.)

"We wanted to make a new product, with a new color, something we'd never seen before. At the time, a color mascara with shimmering pearls were quite unusual. The blue color was particularly popular," said Mr. Segawa.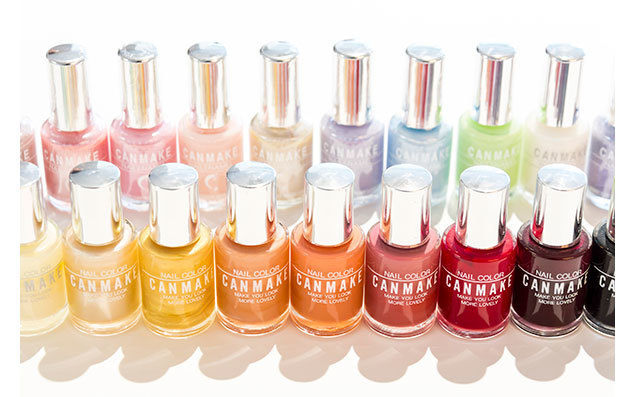 (Front: 1990's 1st generation. Back: 2000's 2nd generation.)

"When Canmake first started, the most popular product was nail polish. It was only 400 yen and had a really wide color range. There were colors you couldn't find with another brand, and many of our customers collected multiple shades," explained Mr. Segawa.

While Canmake offered a fantastic range of cute products, it was still the age of department store cosmetics. "There was a perception surrounding affordable cosmetics, that lower cost means lower quality, so we worked very hard to establish our brand image," said Mr. Segawa. The turning point for Canmake came in 1998, with the "Color Stick." It was introduced in beauty magazines as a favorite of hair and makeup artists.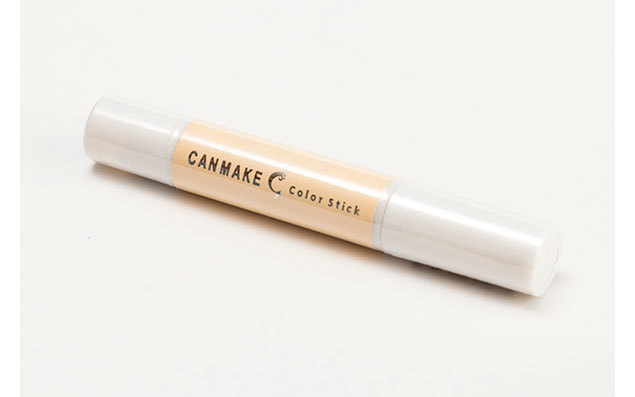 (Color Stick in Yellow. Discontinued; reformulated and now available as "Color Stick Moist Lasting Cover.")

"The yellow shade was described as 'having the perfect coverage and shade for Japanese skin tones, spreading smooth and feeling light on the skin.' I think that was when Canmake started to be recognized for a high quality brand."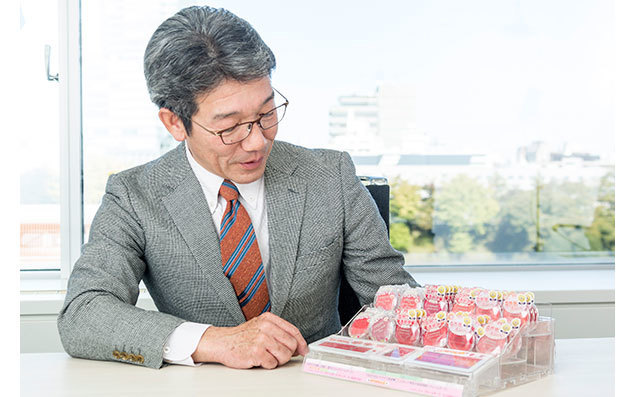 Later, in the 2000s, "drug store cosmetics" were "in". The word started to spread on social media, and product reviews garnered Canmake more and more fans.

"If you spend enough money, you can make a good product. But we're all about making the best possible product while keeping the price affordable. That and making a product that really gets people excited and inspired. All of the people at Canmake work together to fulfill that mission," said Mr. Segawa.

Now, Canmake products can be found in around 5,000 stores across Japan! Join us in the next chapter, as we get a glimpse behind the scenes of Canmake's planning process!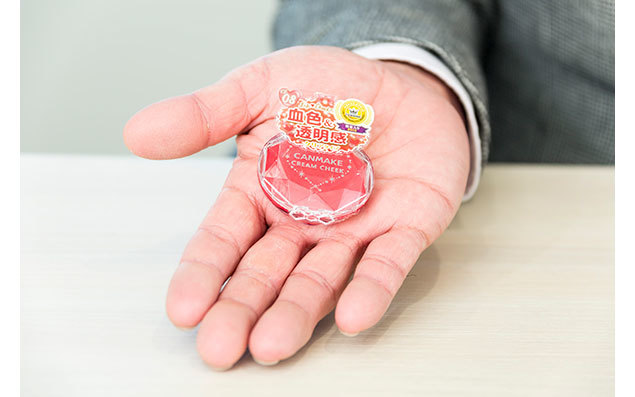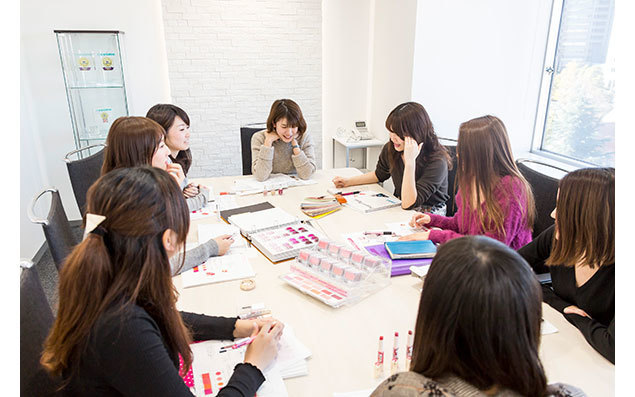 So how does Canmake create its cosmetics, exactly? We got a sneak peek into a product planning meeting! Now we're here to report on what goes into getting these products onto the shelf.

"Canmake's product planning team is currently made up of entirely women," explained Haruka Hoshi, the product planning team leader. At Canmake, every step of developing a new product is managed by one leader, including time frame planning, formulation, and naming.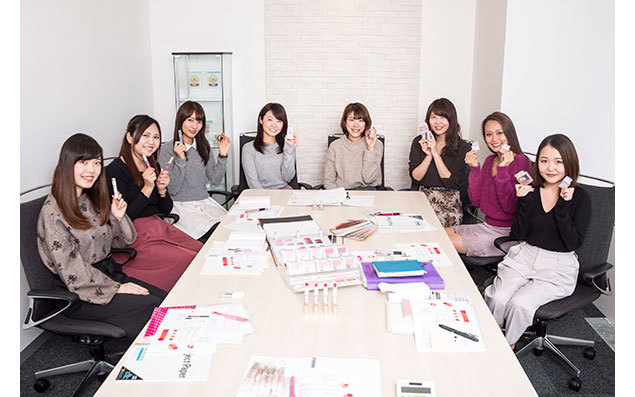 (The product planning team with developing products in their hands.)

At the first planning meeting, each team member submits a rough plan for a product. Sitting in the corner, we heard all sorts of exciting, new ideas. Whether it was "a syrup-type lip color," or "silky-textured mix-and-match eye shadow," every new idea had us on the edge of our seats.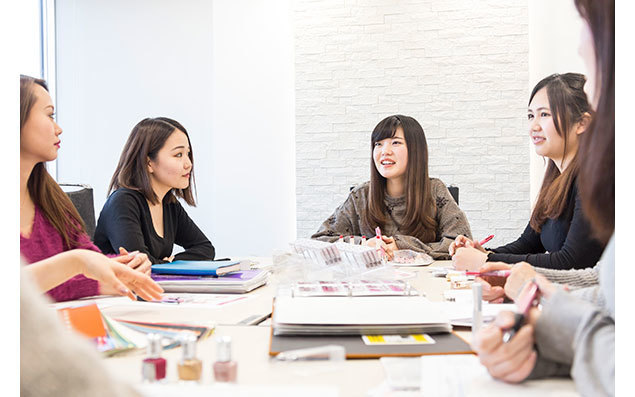 "The texture definitely has to be matte, right?" "The color should be khaki, I think, but Canmake's most popular color is red." "Oh I love your nails, I wonder if we could create something similar to that texture." Opinions were flying fast and furious, all with a uniquely feminine focus.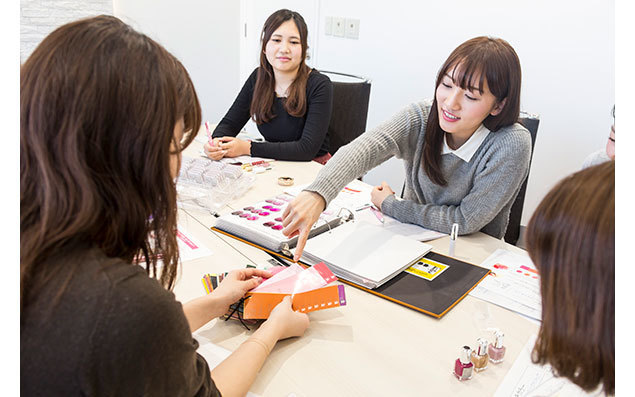 Once a product gets a green light in the planning meeting, the product leader gets to work on the budget estimate and the preliminary research.

"You have to check with the packaging manufacturer for the case options and also with the production center to see whether the formula is possible. There are definitely products that hit a wall during that part of the process," said Ms. Hoshi.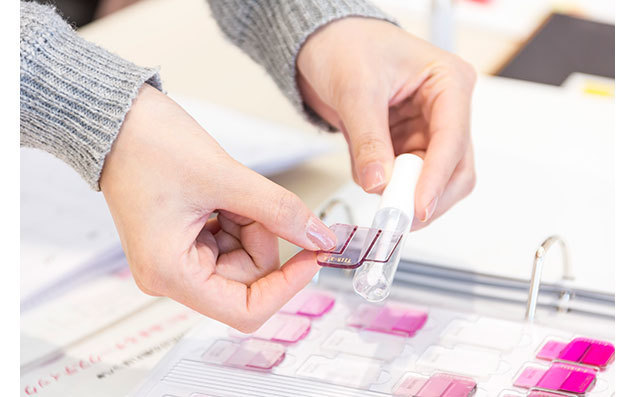 A few days later, the team is back in the meeting room to report on their progress. Now the team can finally get started on the most promising proposals. "We start moving forward with everything at once. That includes commissioning bottle designs, product formulations, deciding the case materials, making arrangements for safety tests, the whole thing," explained Ms. Hoshi.

During our visits, we were lucky enough to have Ms. Hoshi run through the planning process of Canmake's "Stay-On Balm Rouge." She told us that her first idea started when she realized; "I think women start using makeup for the first time with tinted lip balm. It would be nice if there was a stylish, cool tinted lip balm for mature women."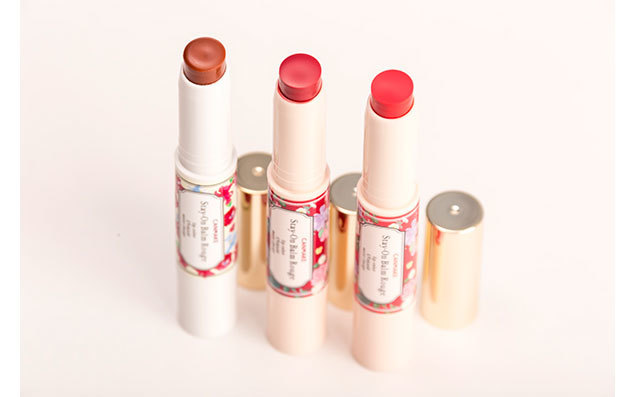 "Until that point, Canmake's lipsticks had been pre-poured, cooled, and then inserted into their case, which cost us both time and money. That's when I started wondering if it would be possible to pour the melted balm straight into the case, like pouring chocolate into a mold," Ms. Hoshi told us.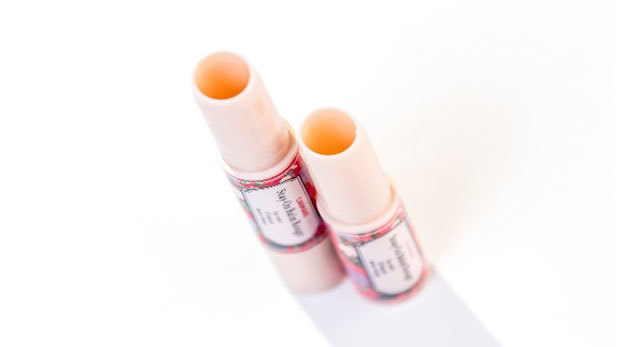 (Lipstick tube containers for direct-pour manufacture.)

The rough design is passed over to the designer, who begins creating technical drawings. These drawings are used by the container manufacturer to create their manufacturing blueprints. "They have to check things like whether or not the cap and the tube fit together properly, all down to each millimeter. Pretty much no one on our team are design expert or own technical knowledge, including me, so we have to rely on the practical experience," said Ms. Hoshi.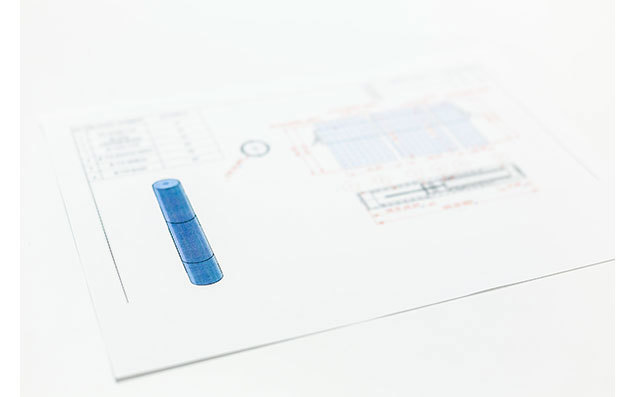 (Manufacturer's completed technical drawings.)

With the container finished, it's on to checking the color and texture of the product. "Sometimes the pigmentation isn't as good as we'd hoped, or the texture causes problems when we're filling the container, things like that. We pretty much keep making tiny adjustments as many times as we can, within the constraints that we have," said Ms. Hoshi.

Ms. Hoshi explained that Canmake is an affordable brand, so they have "no choice but to find the best option within certain constraints." She laughed as she told us that for the "Stay-On Balm Rouge", "printing directly on the tube raises costs, so we started off applying an adhesive label sticker as the last step."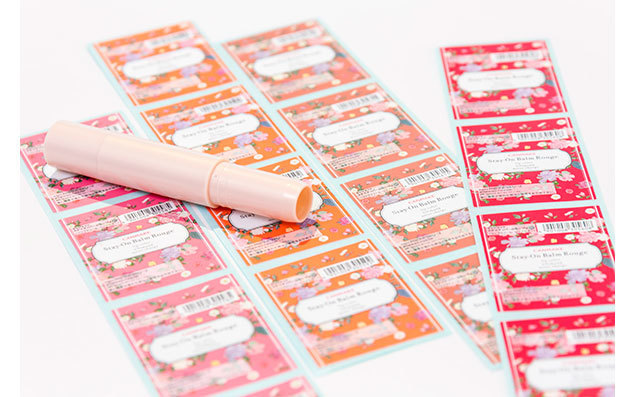 (A bare tube and the original version of the label.)

"Sometimes we have to negotiate down to the yen. Like, 'Can't we knock 1 yen off here?' Then I come to my senses and wonder what we're even doing. Still, it's all about wanting to deliver the best product for the most affordable price, right?"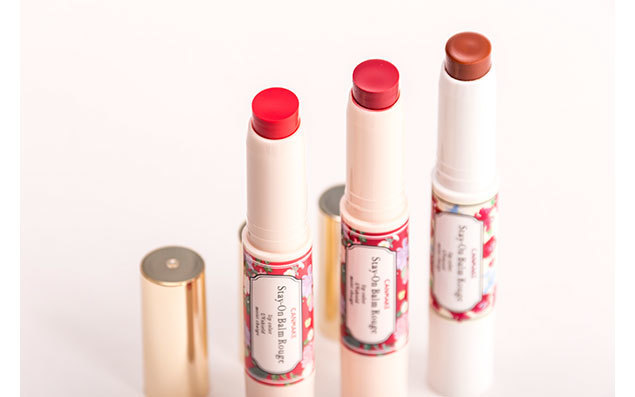 (Stay-On Balm Rouge 14 shades, 580 yen.)

The final "Stay-On Balm Rouge" is now complete. It melts onto the lips with a touch of color, and it's selling better than ever. Now they've ditched the stick-on label and moved to printing the label directly on the tube. That must be a relief for Ms. Hoshi!

While we were visiting Canmake, Ms. Yamaguchi, the PR director, casually dropped this surprising piece of trivia. "Oh, The eye on the outer box of the Lash Frame Mascara packaging? That's actually one of our employees!" Wait, what? "Oh, yeah, that's me," said Ms. Fujii, who happened to be in the meeting.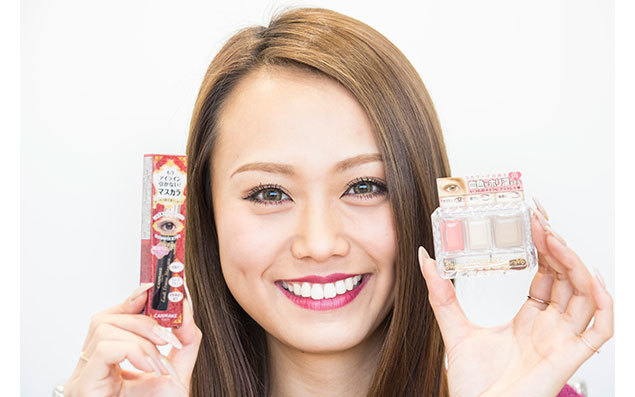 (Momoko Fujii, product planning manager. That's her eye on the box!)

Ms. Yamaguchi explained, "Of course we looked into having a professional model, but we couldn't get the perfect shot and when I started talking with Ms. Fujii during a meeting, I thought, 'She has a really nice eye shape, so why don't we try doing this on our own?'"

Ms. Fujii even did her own makeup for the photoshoot! Appearing on the box of a product you helped create isn't something you get to experience every day, that's for sure. New concepts outside the box, creative thinking to stay under budget; we saw it all during our one-day glimpse into Canmake's surprisingly innovative planning process.

In our next chapter, we'll tell you all about Canmake's efforts to bring Japan's cute "KAWAII" culture to the world.

As of 2018, Canmake's products are available in 13 countries, at roughly 1,250 stores. So how are overseas consumers responding to Japan's cute "KAWAII" cosmetics boom?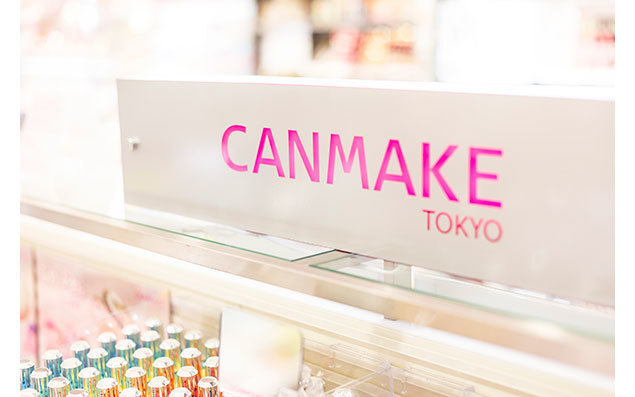 Canmake's foray into the overseas market started with Hong Kong in 1998, followed by Taiwan, Singapore, and other countries in the Asian region. At the front lines is overseas branding manager Kaori Anzai. After visiting several other countries in Asia, she told us the "difference in the concept of beauty" is what made the biggest impression.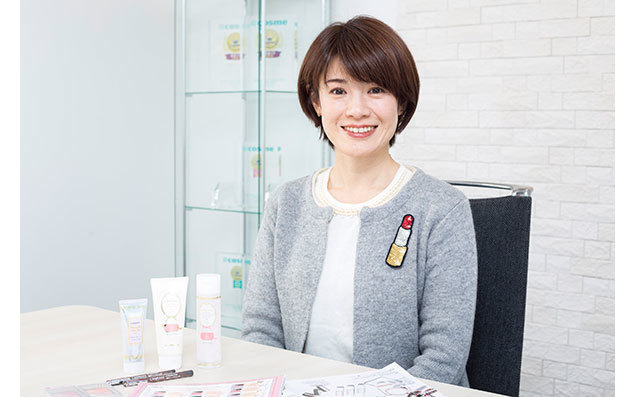 (Kaori Anzai, overseas branding manager.)

"Makeup trends in Hong Kong and Taiwan are similar to Japan, but Southeast Asian countries like Thailand and Malaysia are more about bolder, bigger looks," Ms. Anzai told us. She says bolder brows, heavier eyeliner, and darker lips are on-trend in those countries. "They're not about taking away from the look. There, it's about adding something extra. But even though people prefer a made-up look, it's very humid, so even compared to Japan, consumers are more concerned with their makeup staying on all day."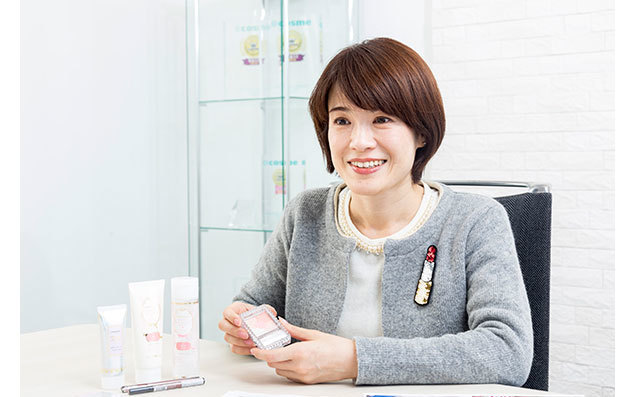 That's why Canmake has had trouble getting consumers to accept the "dewy" look, no matter how often they try to explain it. "They're like 'How is this different from looking greasy?' The products customers favor are absolutely ones with a matte finish," said Ms. Anzai.

The picture below is of two products that are popular in Japan and the other countries Canmake operates in. With its sheer, dewy finish, "Glow Fleur Cheeks" was popular in Japan, but Southeast Asian consumers prefer the matte-finish "Mat Fleur Cheeks."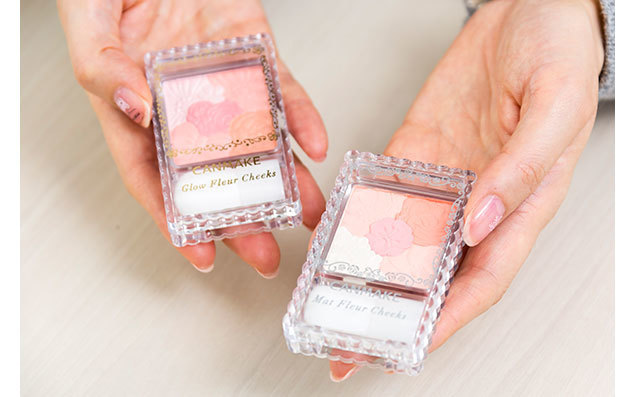 (Left: Glow Fleur Cheeks. Right: Mat Fleur Cheeks. 800 yen each.)

"Of course we want to offer the kind of radiance and soft glow that you get with the Japanese 'KAWAII' makeup style, but it's always about balancing that with local needs," said Ms. Anzai.

"When you go abroad, Canmake is less a cosmetic and more a piece of Japanese pop culture," Ms. Anzai told us. As part of marketing the "KAWAII" makeup culture, Canmake has worked on local advertising.

"We have ad copy that talks about a 'soft, sweet look,' but from a Japanese viewpoint, the models are wearing pretty heavy makeup. [laughter] But that's the Myanmar version of a 'natural makeup look,'" said Ms. Anzai.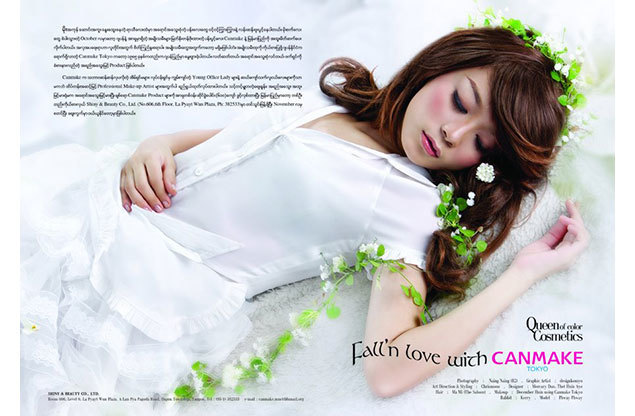 (Canmake advertising used for roadside billboards in Myanmar.)

But more than that, Ms. Anzai has put a lot of work into communicating with local employees.

"In Japan, people have a tendency to be a little standoff-ish when store staff come up to talk to them, but overseas it's more common to have a friendly chat with the staff before making a purchase. So it's really important for our staff to know what makes Canmake special and for them to understand and communicate the 'KAWAII' makeup style," said Ms. Anzai.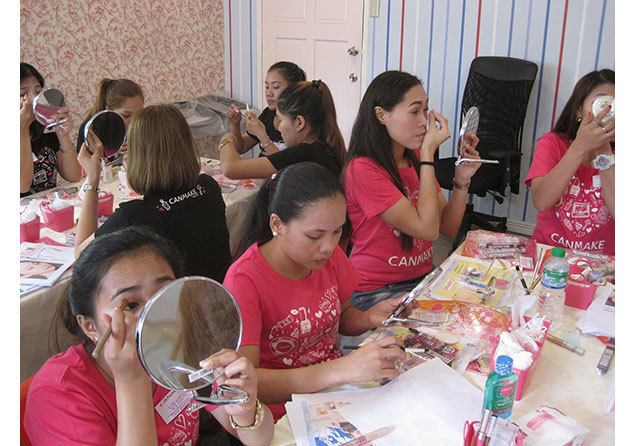 (Makeup seminar in the Philippines.)

Ms. Anzai told us that even staff members who arrive at the seminar with heavy makeup "try on Cream Cheek and other soft-look makeup products and really get to understand how easy and how smoothly the product applies."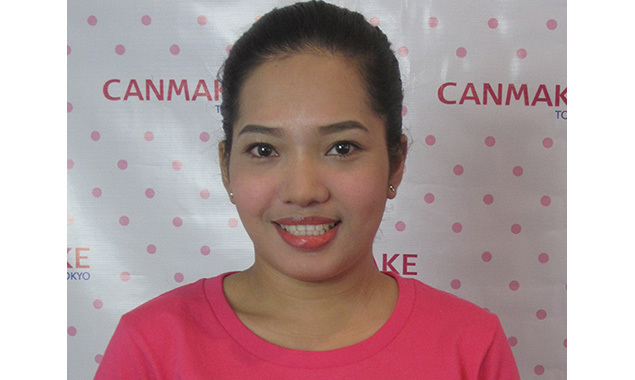 (Employee in a soft look created with Cream Cheek.)

In-store product consultants, a counter at Hong Kong's up-scale SOGO mall, and more – is Canmake actually an "affordable makeup" brand overseas?

"There are import duties and so on, so the price is higher than it would be in Japan. Our stores overseas have a more mature feel as well, so there might be a slightly luxurious image," said Ms. Anzai.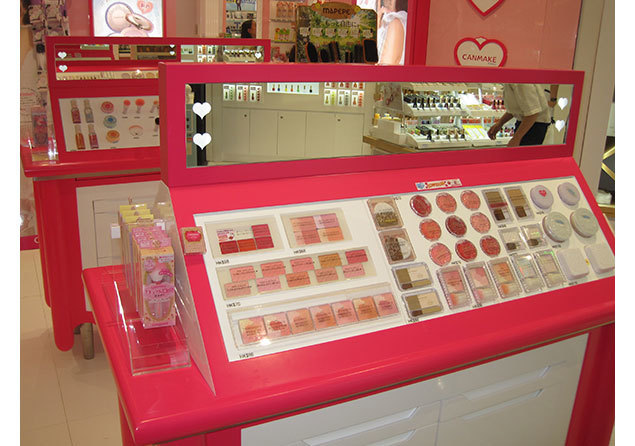 (Canmake counter at SOGO mall in Hong Kong's Causeway Bay.)

All products sold overseas are manufactured in Japan. The only products they make exclusively for the foreign market are cleansers. Canmake's skincare, with a touch of freshness!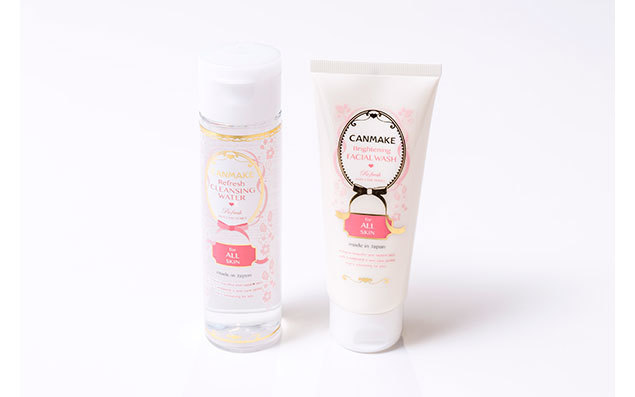 (Southeast Asia-exclusive Cleansing Water (L) and Facial Wash (R))

We got a chance to use them, and seems like it would be a hit in Japan too. Unfortunately, it seems like there are no plans to sell them in Japan. So why is the label in Japanese? Ms. Anzai told us, "We want consumers to know this is a product from Japan, so we leave all of the labels in Japanese."

"The other day, we did a survey of our retailers in each country, for what features stand the most of Canmake and it was safety," said Ms. Anzai. This was another reminder that Japanese cosmetics are highly sought after for their high quality and safety. "That really drove home how important it is not to betray that trust," said Ms. Anzai.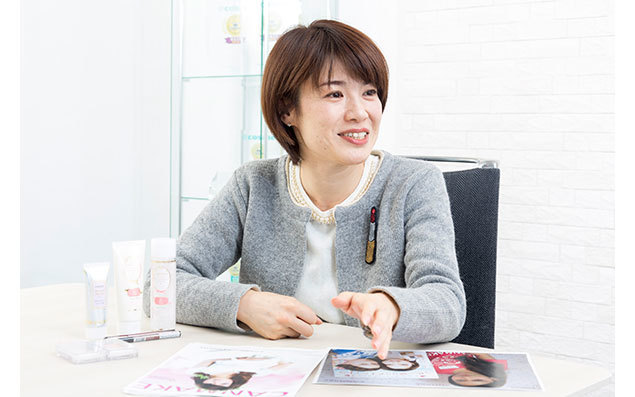 When we asked her how Canmake hopes women abroad use and enjoy their products, Ms. Anzai told us, "Particularly in Southeast Asia, I feel like there are a lot of women who think there's a certain look with makeup. Canmake offers a wide range of colors, so we hope people try out different colors and trends for every season."

At the stores themselves, Ms. Anzai has put her own touch on the interior decoration, with artificial cherry blossom flower arrangements in spring. In winter, stores are decorated with cotton "snow" to recreate the beauty of Japan's four seasons. "I hope we can continue to share this Japanese 'KAWAII' culture with the rest of the world," she told us.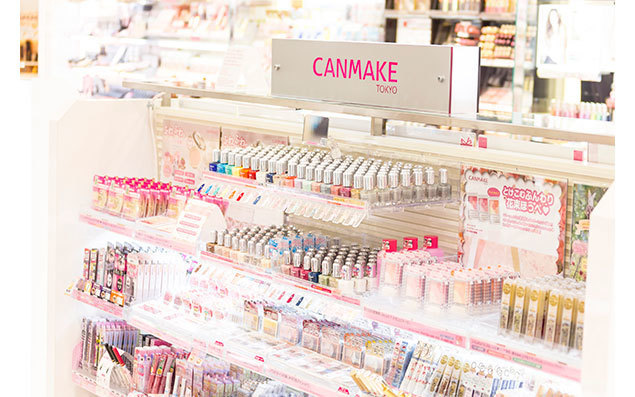 Canmake's products are full of special little touches. In this chapter, we'll share some trivia about Canmake that might surprise you and may even convert you to a Canmake fan!

Let's take a look at the short taglines on Canmake's packaging.

"Normally, when brands describe product colors, they use a lot of expressions that describe the color itself, like 'natural brown,' or 'mint green.' But at Canmake, we take it a step further and try to give products a tagline that helps consumers envision the finished look as easily as possible," said Yuki Yamaguchi.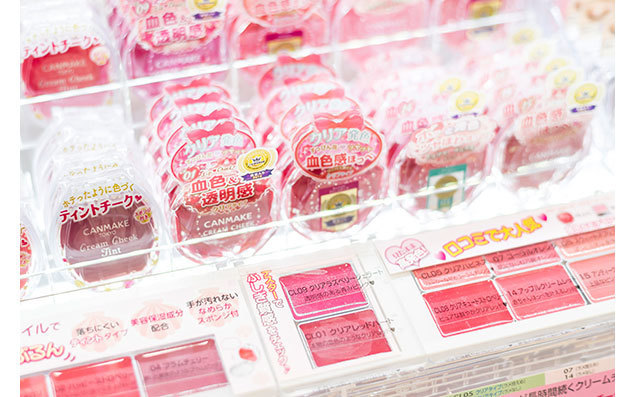 For example, you'll find descriptions like "flushed blush" or "no makeup, makeup look with dewy glow" which are written to help people imagine what the finished result will look like. Ms. Yamaguchi laughed as she explained, "We want users to be able to choose products on their own, so project leaders spend every day really racking their brains to keep the ad copy short and to the point."

Canmake's products are made for consumers to pick out on their own. Like their ad copy, Ms. Yamaguchi told us, "We want to help customers understand how to use our products for the best results as much as possible, which is why we make an effort to pack a lot of information into the packaging."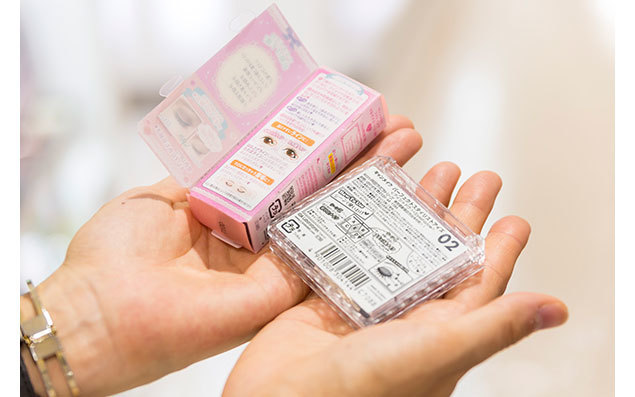 (Packaging that's packed with how-to instructions!)

On the right, you can see suggestions for how to place the 5 colors in the Perfect Stylist Eyes palette, while on the left you can see the Lasting Multi-Eye Base WP has a full usage guide included in the packaging. "The print may be small or tough to read, but it gives you detailed instructions on how to use it as an eyeliner, as a shadow base; all the different functions it has," explains Ms. Yamaguchi. If you have one of these lying around, make sure you've checked it out!


"This one we came up with when we were hoping to put a mirror in our eyeshadow's case," said Ms. Yamaguchi. Didn't Canmake vow to use clear cases that let customers see the color inside? How were they going to put a mirror on the case without using the back of the packaging?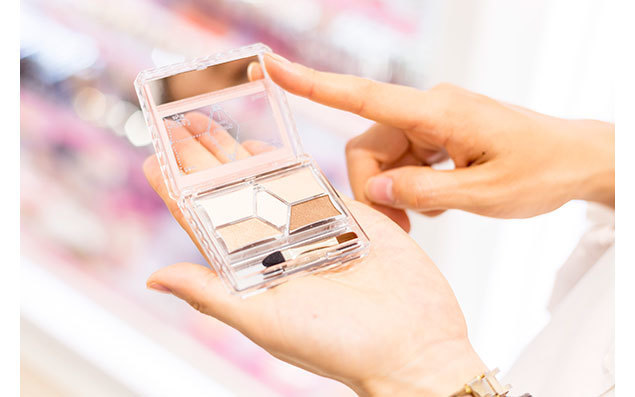 (A clear case with a sideways mirror. Perfect Stylist Eyes in 9 shades. 780 yen each.)

"We placed the mirror here and then printed the lid of the case to conceal the back of the mirror," Ms. Yamaguchi explained. Good thinking! Now three different types of Canmake eye shadow come with a mirror.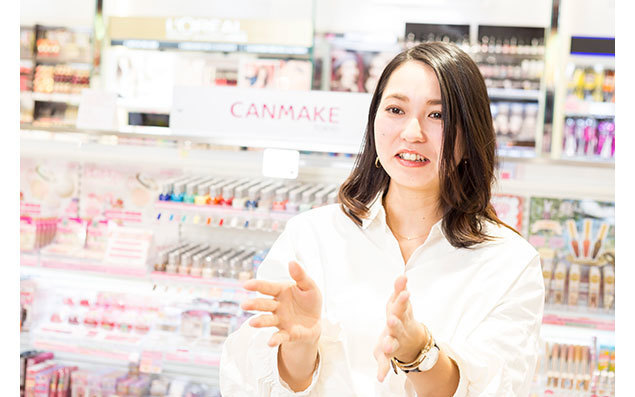 When it comes to Canmake's biggest crowd-pleaser, it has to be "Marshmallow Finish Powder." Released in 2011, its sales numbers have hit and passed the 10 million-unit mark! "We've moved over 10 million units of it now, and we did a TV ad campaign in 2017, but when it first came out we didn't really do any special advertising for it. We haven't even redesigned or reformulated it. The powder is really refined, and it has good coverage despite going on fairly sheer, so I have to assume the good quality came through user reviews," said Ms. Yamaguchi.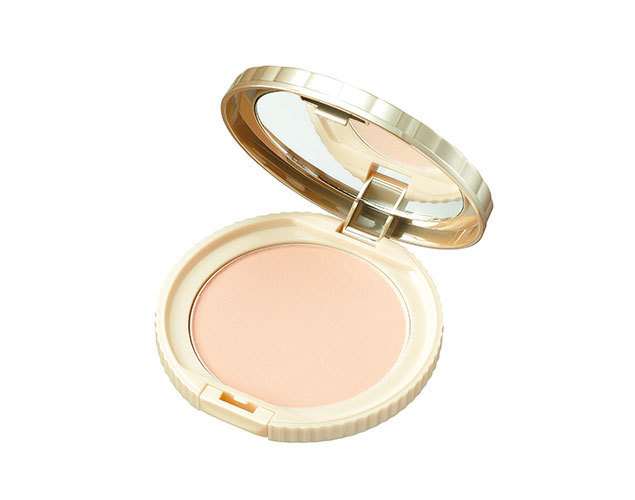 (Marshmallow Finish Powder. 4 shades. 940 yen.)

Another all-time favorite from Canmake is this one, "Powder Cheeks." It made its debut all the way back in 2000, but did you know that they've been updating its appearance in secret all along?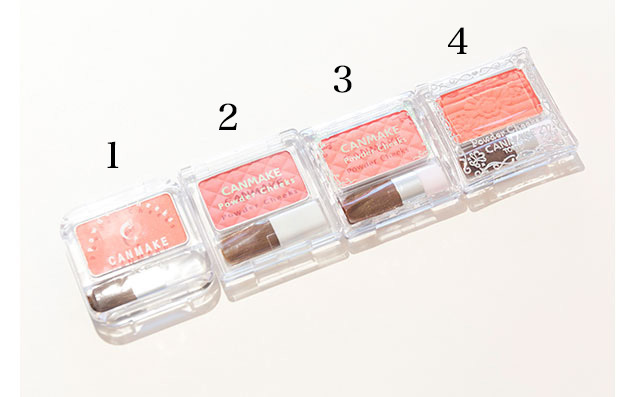 (A timeline of Powder Cheeks. As of 2018, 10 shades. 550 yen each.)
"Number 1 is the first generation, with a simple design. Number 2 came out in 2006, with a quilted pattern pressed into the blush. The 3rd generation came out in 2012, with both a new faceted case and a higher bristle count in the brush. Then, in 2016, we released the 4th generation, with an embossed flower pattern," said Ms. Yamaguchi.

With a cuter design in every generation, the price has stayed exactly the same over its 18-year history. Canmake really shows its true colors with its efforts to help everyone enjoy their makeup.

In addition to everything they had shown us so far, we were even more impressed with Canmake's commitment to detail. The white bristles of the blush brush? "We thought it would be cute if the ends gradually are dyed pink with use." Adding a small bump to the space for the eyeshadow brush? "That was for easier access getting the brush in and out of the case."

As Ms. Yamaguchi told us, "We're always thinking from the customer's point of view so we can figure out what makes things easy to use."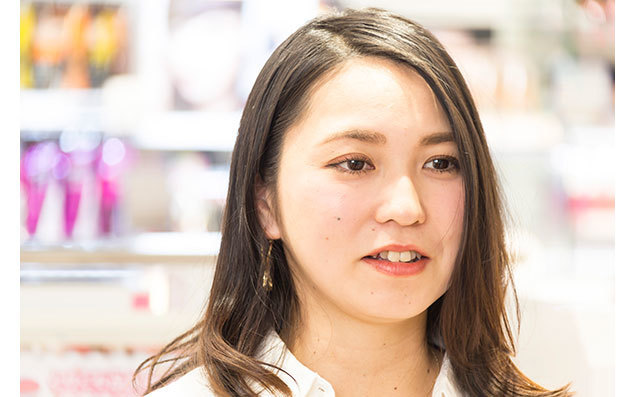 "Canmake's appeal is in its quick product release cycle and an affordable price point. That's why we hope our users can find a way to enjoy makeup that's perfect for them. We really hope we can help share happiness to everyone through our makeup products," explained Ms. Yamaguchi.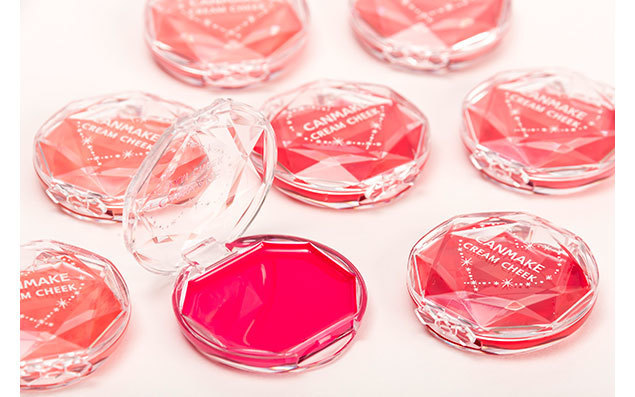 【Yuki Yamaguchi】
PR Chief for Canmake. After heading up the promotional planning team, she took her talent to the planning team to come up with new makeup products. With experience introducing new products in overseas markets, she transferred to the PR department in 2017. Now she's working hard to help even more people discover the Canmake magic!


【Yoshinori Segawa】
Managing Director of IDA Laboratories and Chief of Canmake. With years of experience in sales, he also has plenty of expert know-how when it comes to containers and packaging. In 1997 he brought the Canmake brand under one roof and now is in charge of domestic and overseas sales, product planning, and international expansion.


【Haruka Hoshi】
Product Planning Chief for Canmake. Since joining Canmake, she has headed up the product planning team. Known as Canmake's "hit-maker," she's guided the creation of several bestselling products, mainly base makeup and lip products. She is currently working on streamlining the planning process in addition to ongoing projects.


【Kaori Anzai】
Overseas Branding Assistant Manager. She first managed import planning for cosmetic goods for Canmake. In 2001, she became export manager for Canmake's international development push. With a hectic schedule flying to countries across the world, she is busy taking Japan's "KAWAII" culture to all of the 13 countries and regions where Canmake products are sold.

Photo/Daichi Saito
Interview・Text/Namiko Uno

※Our pages are translations of articles published on Japan's @cosme. All products introduced in the articles are sold in Japan.